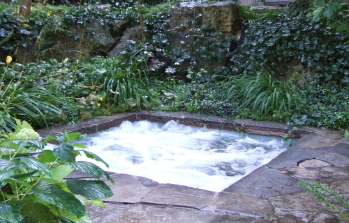 "In order to become a man / woman of knowledge, a Warrior Traveler, you first have to learn to stop the world."
- Don Juan, Native Shaman .
Let us stop the world if just for a half an hour! We love to get away to a vacation but often the cost and the preparation is beyond us. Escape out your back door and let warm water dissolve away stress - every night. Imagine yourself on that tropical island of your dreams. The effects of a warm soak with muscle relieving action can melt away the worries and pains of a day. All of this sounds amazing doesn't it? Consider a hot tub in your back yard. Weigh the cost of a vacation vs. the benefits that keep giving every day all year round.
Let's look at some practical considerations to allow you to make an informed choice:
Planning the Best Location for Your Spa
Location is very important. Place your hot tub close to your back door. Less than 10 feet away will ensure you will use it in inclement weather. Create a room outside that allows privacy. Remember, this is your escape that will rejuvenate you.
Preparing a Good Foundation
Hot tubs are heavy. Place tubs on a prepared surface. Level, flat and solid are the requirements. A filled hot tub will weigh close to 5000 lbs. Get advise from your hot tub dealer to ensure placement is ideal.
Electrical Requirements
Electrical hook up of a tub must be done by a certified electrician and inspected. Tubs need 40 to 60 amps of power. Choose the tub that will suit your home and your needs.
Covers
Hot tubs come with large awkward covers. Covers need room to be folded in 1/2 and pushed out of the way. There are several different cover lifters to suit the needs of space constraints.
Maintenance
Chemical maintenance is an essential part of routine care of your tub. Discuss regimes and options with your hot tub dealer. They will guide you to find what best suits the needs of you and your family. Your dealer will educate you on water analysis. Maintaining healthy water is essential in the enjoyment of using your tub. And use your hot tub often.
With your hot tub you can look forward to more relaxed daily living ready to pursue your higher goals.
For more information contact us at Pollock Pools and Spas