Pools, Spas, and Landscaping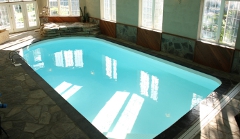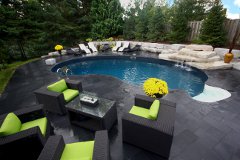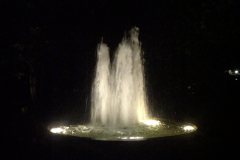 Spend time with your family this summer, vacation in the backyard. Call and we can design a pool and landscape that will be an investment in your home. We are specialists in the design and construction of unique and functional backyard retreats.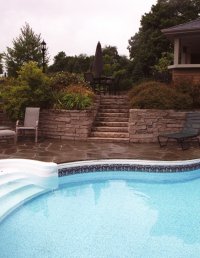 Design Process - Quotations
Initial meeting with client to review requirements for project, assess site for quotation, and survey for future design work.
Provide preliminary quotation based on site meeting, and client requirements.
Proceed with pool contract and initiate preliminary design.
Review and refine preliminary design
Final working drawings submitted for permits

Construction – Building Permit and Utility Locates
Upon completion of permit application and posting of any bonds or deposits a building permit will usually be available in 2-3 weeks.
Building permit fees and time are billed to client.
During this waiting period the client is responsible for obtaining all utility locates such as Bell, Cable, Hydro, Water, Gas. For rural clients also Septic Tank, Septic Bed, Wells, Cisterns etc.
Access for Excavation & Construction
The access to the rear yard can often be difficult since it may require the use of adjoining property. The cooperation of your neighbour or municipality is usually required. The access must be restored to original grade and condition prior to construction. If driveways are required to be used for access Pollock Pools will not be held responsible for damage.
Excavation
Prior to the arrival of the excavating equipment a site meeting is held to locate the pool, cabana, spa, beds, decking, fences, etc. At this time all grades are also finalized. Location of property lines must be provided by the client. A survey is usually required and if there is any doubt it should be verified by an Ontario Land Surveyor.
Soils & Water
If we had a crystal ball it would be simple to determine what lies beneath your backyard. Unfortunately underground water, poor soil types, and backfilled lots all require specialized construction techniques. At this point additional work is estimated and work completed based on time and material.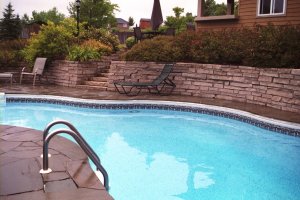 Subcontractors
Although your pool is built entirely by our own staff, electrical work and gas fitting must be completed by certified and licensed tradesmen. These sub-contractors will need access to your home to complete their work. The cost of these connections is not included in your pool contract.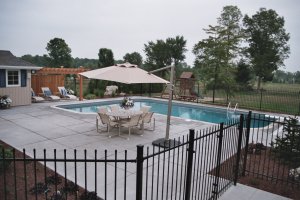 Timing
The amount of time required depends on the scope of the work and the weather. It normally will require 2-3 weeks to complete a basic pool project, larger projects will take longer.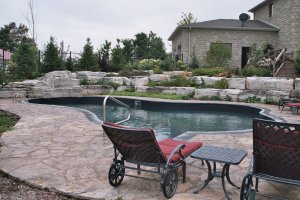 Landscape Construction
An integral part of your backyard retreat is the landscaping. Stonework, waterfalls, plantings, woodworking, decking, and lighting. These elements are blended to provide a beautiful and relaxing environment to enjoy with family and to entertain friends. All work is completed by our own staff.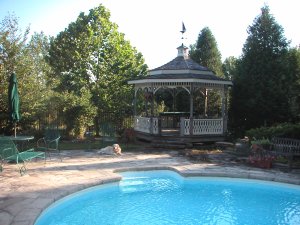 Completion of Project
Before we hand over responsibility for your new pool, an important aspect of the construction process is to ensure our clients are familiar with the safe use of all pool equipment, such as heaters, pumps, filters, pool cleaners, salt chlorine generators, vacuum equipment, lighting, etc.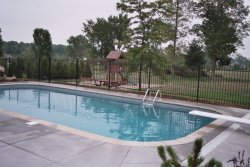 Service & Support
Help with any questions or problems is available at our retail store. Water testing, parts, accessories, chemicals, and advice are available.
Pool Closings
We prefer that our customers take advantage of our pool closing service. It is the best way to ensure that your investment will be protected. We built your pool and know best how to protect it from damage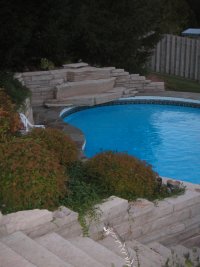 Safety !!!!!
Your fence must be kept closed and locked at all times. 4 sided fences save lives. Follow directions for the use and storage of pool chemicals, and never mix chemicals. Never leave children unattended, and don't allow yourself to be distracted.